Three Days in Charlottesville
2. A Unity of TimeThe festival included presentations each day by a single master, allowing us all to view and assess the work of these people in great depth. Mary Ellen Mark showed a fantastic exhibition called "Proms." Joel Peter Witkin, a real creator of phenomenal culture who hides behind a systematic provocation, conducted a three-house presentation of his work that, God knows, was nothing less that provocative. James Nachtwey was interviewed by MaryAnne Golon, herself recently departed fr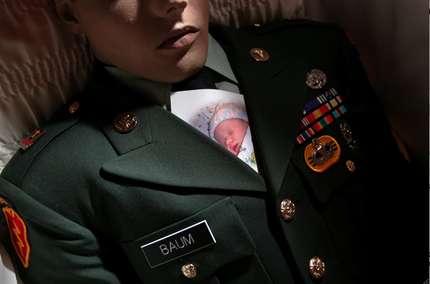 In an ocean of bad news–picture editors being laid off, agency and magazines closures, recession–an island of hope, conviviality, and artistic recognition is thriving in Charlottesville, Virginia. The second-annual LOOK3 Festival of the Photograph, which ran last week from Thursday through Saturday, was a gathering of great talent and intelligent exhibitions, neither systematically desperate nor partisan.
Created by photographer Michael K. "Nick" Nichols and sponsored by National Geographic magazine, Look3 is something entirely unique for the United States, which has never had a real photographic festival. Houston's FotoFest is a provincial "salon," and the New York Photo Festival, which debuted in Brooklyn last month, was an amateurish joke at best.
As I see it, there are three reasons for the great success of the Charlottesville festival:
1. A Unity of Place
The festival's activities, including exhibitions and presentations, are contained within an area that is easy to cover on foot—about a one-mile stretch through the charming city, featuring 20 galleries and exhibitions and three projection venues (the Pavilion, the Paramount Theater, and the IX Warehouse.)
2. A Unity of Time
The festival included presentations each day by a single master, allowing us all to view and assess the work of these people in great depth. Mary Ellen Mark showed a fantastic exhibition called "Proms." Joel Peter Witkin, a real creator of phenomenal culture who hides behind a systematic provocation, conducted a three-house presentation of his work that, God knows, was nothing less that provocative. James Nachtwey was interviewed by MaryAnne Golon, herself recently departed from Time magazine, where she was director of photography. Nachtwey is astonishing–the Rudolph Valentino of photography. Women adore him. In his conclusion to his conference, while answering the question "is there still room for love in photography," he said, "to be the witness of suffering is in a way a proof of love". At that moment I'm sure the 500 women in the room had an orgasm. I have to admit, a hint of jealousy also crossed my mind.
3. A Unity of Content
There was importance placed on images published in magazines and a wonderful unity imposed to the projections: Each six minutes, one subject matter, by one photographer.
Among the 60 projections there were three gems: "Brothers in Arms" by Brian Plonka, "Earthlings" by Richard Kalvar, and "Another Country" by Scott Strazzante.
These three days of photography were neither pessimistic nor nostalgic. Rather, they showcased what is being done today and the approach of tomorrow: The use of video, the use of music, and the combination of different media.
An added bonus: I discovered of one of the strongest picture of the Iraq war (above), taken by Barry Gutierrez of the Rocky Mountain News. Entitled "Leia's Daddy," it was part of an exhibition of winners of this year's Pictures of the Year contest. Gutierrez photographed the body of Sgt. Ryan John Baum, killed in Iraq 11 days before the birth of his daughter, Leia. Sgt. Baum's widow, Dana Baum, said that all her husband wanted was to come home and put his baby on his chest, so at his funeral a picture of the child was placed there instead. Heartbreaking, extraordinary.—Jean Jacques Naudet