One Last Day in Wyoming
Last week I was posting from the Photography at the Summit digital photography workshop in Jackson, Wyoming. I had to leave a day early, but managed to squeeze in a few final early-morning hours of shooting at Teton National Park with nature photographer Tom Mangelsen and former National Geographic editor in chief Bill Allen before I caught my flight out. The workshop, organized by Rich Clarkson and Associates, is a classy affair all the way around, and without giving too much away I can tell yo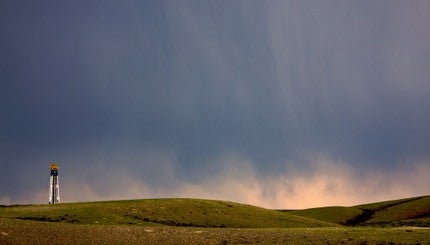 Last week I was posting from the Photography at the Summit digital photography workshop in Jackson, Wyoming. I had to leave a day early, but managed to squeeze in a few final early-morning hours of shooting at Teton National Park with nature photographer Tom Mangelsen and former National Geographic editor in chief Bill Allen before I caught my flight out.
The workshop, organized by Rich Clarkson and Associates, is a classy affair all the way around, and without giving too much away I can tell you it made a list of American Photo's favorite photo workshops. (You have to wait until our July/August issue comes out to see the entire list.)
This year the workshop coincided with the annual meeting of the International League of Conservation Photographers, the organization of concerned nature photographers featured in the September/October 2007 issue of American Photo. Climate change was the topic of two of the workshop's evening presentations, one by photographer James Balog another by photographer Gary Braasch. Balog, by the way, has been invited to testify before a congressional committee and show the images of disappearing glaciers that he has been making over the past two years as part of his ambitious Extreme Ice Survey. Can pictures make a difference? The answer seems to be yes.
The ILCP photographers and a few of the workshop's students also took part in what the organization calls a RAVE, which stands for Rapid Assessment Visual Expedition. The focus of this three-day event was Wyoming's Upper Green River Basin, which is currently being extensively developed by oil companies. The photographers combed over the area shooting everything in sight, from beautiful landscapes and wildlife to the oil development itself. The goal, said ILCP head Cristina Mittermeir, is to collect imagery that can be used to show people (and national decision makers) threats to the environment. Above is a shot from the RAVE by ILCP photographer Balan Madhavan.
For most of the workshop students, the wildlife around Jackson is the real draw is the main focus of interest, but as the week went on the range of the photography shown a the daily critique sessions really broadened. Here are a few choices from final session:
Darrin Harris Frisbe of Nederland, CO got a good shot of this moose bison and her offspring.
Scotty Craigshead of Kelly, WY was less concerned with animals than he was with a macro view of water droplets on a tree branch.
Meanwhile, Michele Deslouge of Denver, CO focused on the human nature of downtown Jackson. By the way, the seats at the Million Dollar Cowboy Bar are saddles, which are really more comfortable than one might think.—David Schonauer