Galleries Galore
So it was pleasant serendipity to realize last night that that building holds many of the galleries I've been including in my weekly exhibition listings ... and that they all happened to be open late for my perusing pleasure. After Klompching, I stopped in at Safe-T-Gallery, showing Larry Racioppo's Brooklyn Interiors. These large, stunning images of the extreme decay hiding inside many of Brooklyn's transitional buildings are startling and enthralling -- one of an abandoned schoolroom reminds m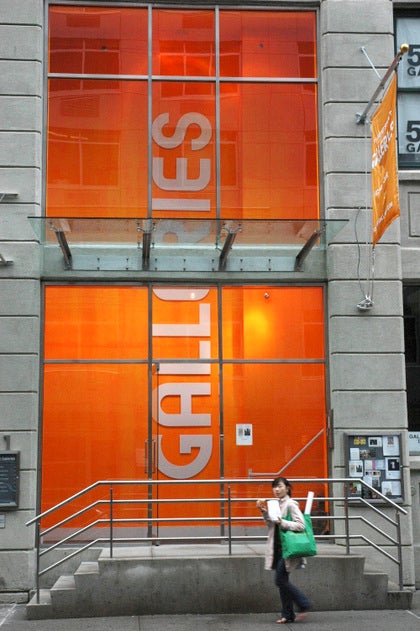 Last night I braved the chilly rain that is currently plaguing New York's beautiful spring and went to see the opening of William Greiner's Fallen Paradise show at Klompching Gallery in DUMBO. Greiner and I have been emailing for at least a year, so I was happy to see him (and his beautiful prints) in person. But I was even more pleased to have finally made it out to the DUMBO gallery scene — especially on what was a particularly opportune evening.
Last night happened to be the first Thursday of May, and it turns out that a bunch of the DUMBO galleries stay open until 8:30 on the first Thursday of every month. To make things even more convenient, the vast majority of those galleries are located in one building, 111 Front St. A funny aside: When I first went to DUMBO a couple years ago to see the construction of powerHouse's now-bustling Arena, I made a picture of the huge orange marquis at 111 Front St. (see above), without knowing what lay inside.
So it was pleasant serendipity to realize last night that that building holds many of the galleries I've been including in my weekly exhibition listings … and that they all happened to be open late for my perusing pleasure. After Klompching, I stopped in at Safe-T-Gallery, showing Larry Racioppo's Brooklyn Interiors. These large, stunning images of the extreme decay hiding inside many of Brooklyn's transitional buildings are startling and enthralling — one of an abandoned schoolroom reminds me so much of Robert Polidori's images of empty classrooms near Chernobyl.
Then I stopped in at Umbrage Gallery to see the Sylvia Plachy show. I love Plachy and her always light-handed wit … although, I have to admit, after seeing her massive retrospective at PHotoEspaña last year, this small show was a little underwhelming. An exhibition combining work by Andrew Miksys and Jonathan Gitelson at the nearby Nelson Hancock Gallery had a similar air of insightful levity, especially Gitelson's funny little "Artist's Books," my favorite of which includes a found To-Do list that Gitelson "completes" with a sort of Polaroid scavenger hunt.
Finally, I wandered through Hire Education, the Pratt Senior Thesis Photography Exhibition. There were the usual highs and lows, but I was especially struck by Anita Ng's four studies of friend's bedrooms. Her artist's statement says that she never had her own bedroom, and thus is exploring both how people use personal space and what that personal space represents. Above all that, they are just fascinating spaces to look at — and to imagine from them what their inhabitants must be like.
So if you haven't gotten the gist of this article yet, let me break it down for you: See these shows, check out 111 Front St., try to hit it on the first Thursday of the month. Especially if it's raining … you won't even have to leave the building to see tons of good photography (and other art, fyi, if you're into that kind of thing).
~Miki Johnson