Day Two at the Summit Workshop
Photography can be a tough job. That's one thing I learned at day two of the Photography at the Summit workshop in Jackson, Wyoming. It can also be a lot of fun, which I already knew. But I've never seen a grizzly bear cub in the wild, and I got to early this morning on a photo expedition into Teton National Park with wildlife photographer Tom Mangelsen. More on that later.First, let's talk about how tough photography can be. Have you seen those pictures on the Internet of the photographer from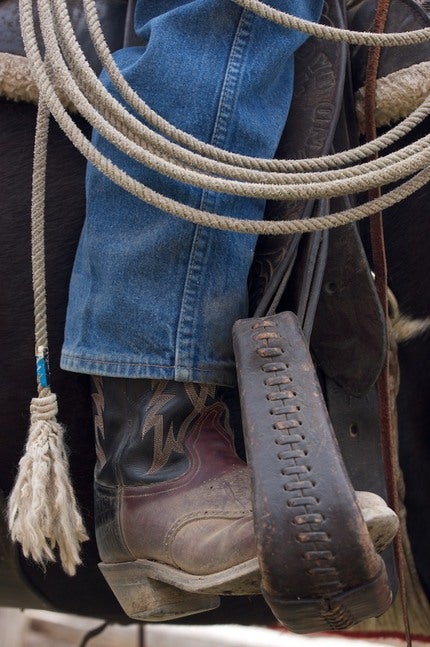 Photography can be a tough job. That's one thing I learned at day two of the Photography at the Summit workshop in Jackson, Wyoming. It can also be a lot of fun, which I already knew. But I've never seen a grizzly bear cub in the wild, and I got to early this morning on a photo expedition into Teton National Park with wildlife photographer Tom Mangelsen. More on that later.
First, let's talk about how tough photography can be. Have you seen those pictures on the Internet of the photographer from Utah who got the javelin jabbed through his leg and then kept on working? The guy's name in Ryan McGeeney, and it turns out he's one of the students enrolled in the workshop here. I met him in the afternoon when I reviewed his portfolio. Of course I asked him what it was like to be jabbed by a javelin. He corrected me. "I was javed, not jabbed," he said.
Also at the workshop is Gregg Bleakney, who we profiled in the May/June issue of American Photo. Gregg's the guy who rode a bike from northern Alaska to the southern tip of South America. Along the way he found out he loved photography. He also found out what it's like to be hit by lightning on his trip. "It felt like a shock," he said in the understatement of the day.
Then I reviewed a wonderful portfolio by Ali Darvish of Tampa, FLA. Ali flies all over the world to shoot wildlife, and last February he was in Alaska. The small plane he was in took off and climbed to about 1,000 feet, then lost some vital parts, especially the wings. It crashed, severely injuring the piliot and another passenger. Ali walked away with minor injuries.
So at one workshop we have a photographed who was pierced by a javelin, a photographer who was hit by lightning, and a photographer who road an airplane into the ground. Photography is tough.
Rain and snow didn't stop students from shooting the wildlife around Jackson. I picked five images that stood out in today's critique:
Cynthia Cassano of El Dorado Hills, CA went looking for little cowboys, and made this shot of a boy mounted up for a ride.
Ali Darvish, plane crash survivor, created a lovely layered composition of mountain ranges and sky.
Darren Harris Frisby of Nederland, CO made a black-and-white shot of Rocky Mountain big-horned sheep.
Treese Hellstrom of Canon City, CO photographed the spring green aspen leaves now popping out.
Ryan McGeeney, javed photographer, captured this two-year-old grizzly bear cub. The cub and his two siblings, plus his mother, have been making a lot of news here over the past year. The mother recently abandoned her offspring and moved up into the mountains to mate again. The cubs are still in the park, and they've become the Britney Spears of Jackson, as crowds of photographers convoy into the park to take pictures of them. I got some shots of this guy too, but they weren't very good. Luckily, Ryan did better.—David Schonauer