Tintype Buckaroos
writes Randy Kennedy in the Times.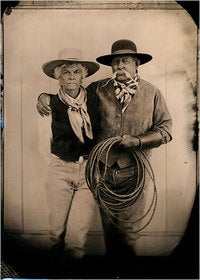 Having grown up in the Texas Panhandle with a healthy dose of cowboy artifacts and imagery all around, I'm always tickled when I come across said folklore here in New York City. So I was pleased as a pig in mud to see the arts-section feature story called "You Bet Your Tintype, Buckaroo" in yesterday's New York Times.
The subject is the photography of National Geographic veteran Robb Kendrick — a native of tiny Hereford, Texas (home to world-class stinky feed lots, and sports rival to my nearby hometown of Canyon) — who often shoots modern cowboy life using the outdated but aesthetically apt medium of the tintype.
"The latest result of Mr. Kendrick's twin obsessions — with tintypes and the bow-legged anachronisms who continue to make their living on horseback — is Still: Cowboys at the Start of the Twenty-First Century, a new collection of 148 tintype portraits published by the University of Texas Press," writes Randy Kennedy in the Times.
The story's online slide show includes evocative portraits such as those of Raithe and Merline Rupe (above left) and Kendrick himself at work (right). The project is a fascinating rediscovery of rural North America, historic photo techniques, and enduring relics. Happy trails to viewers. — Jack Crager