Remembering Magnum's Burt Glinn
The renowned Magnum photographer Burt Glinn died yesterday at his home in East Hampton, New York at age 82. The cause was kidney failure and pneumonia. Magnum has a memorial to Glinn up on its website, along with a portfolio of his images. Glinn worked for Life magazine from 1949 to 1950, but tt is impossible to discuss his career and impact on photography without considering Magnum. He joined the agency in 1951 as an associate member, among the first Americans—along with Eve Arnold and Dennis S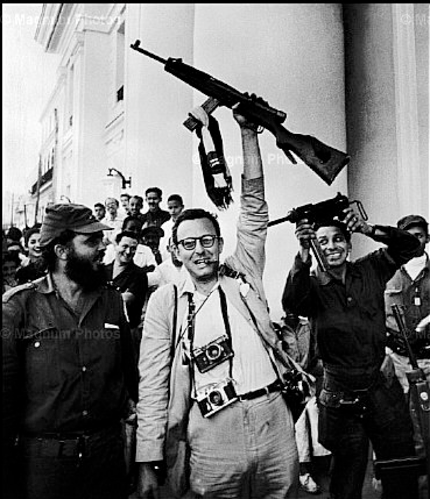 The renowned Magnum photographer Burt Glinn died yesterday at his home in East Hampton, New York at age 82. The cause was kidney failure and pneumonia. Magnum has a memorial to Glinn up on its website, along with a portfolio of his images.
Glinn worked for Life magazine from 1949 to 1950, but tt is impossible to discuss his career and impact on photography without considering Magnum. He joined the agency in 1951 as an associate member, among the first Americans—along with Eve Arnold and Dennis Stock—to do so. He became a full member in 1954. He was among the first (and the few) Magnum photographers to take on corporate work—pointing the way for the financial survival of the agency. He covered the war in the Middle East in 1956, covered the Cuban revolution in 1958, and later did color work for Life, Paris Match, and other magazines.
One of the magazines he shot for was Holiday, the great travel magazine of the era. Holiday was just a little before my time, but I once found a box of old Holidays that someone was throwing out, and it was while looking through those mildewed copies I came to an appreciation of Glinn's work. The standout was a color essay on Japan—beautiful, grand, and often haunting. Holiday employed the world's finest photographers—the late Arnold Newman was also a regular contributor—and Glinn was certainly among that group.
You would certainly have to say that his coverage of the Cuban revolution was a career highlight, and you get the impression that he understood clearly the historic importance of the event. The shot above shows Glinn caught up in the sweep of the moment. Here is how the tale according to the Magnum tribute:
It's not just a good story—it's a description of the romantic life of a Magnum photojournalist. In Glinn's case, the romance was real.