A Portrait Session That's Lasted 33 Years!
Click here for a slide show of images from across the years.(continued after jump)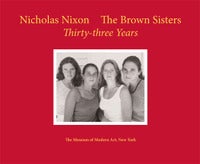 Nicholas Nixon,60, the Massachusetts-based portrait and documentary photographer who uses primarily 8×10 cameras, has made a career of photographing his immediate family—notably his children, Sam and Clementine. Their portraits have found homes in many of the world's great art collections.
His most poignant series of photographs? Those of his wife and her three siblings. Begun in 1975, the series of group portraits titled "The Brown Sisters" features the same four women arranged almost identically in 33 frames taken, one each year, across 33 years. In an exhibition of large-scaled, beautifully-printed, black-and-white photographs, the portraits have traveled the country, with stops at the Museum of Modern Art, National Gallery of Art, the Cincinnati Art Museum, and other venues. Now, they've also been collected in book form by the Museum of Modern Art (Nicholas Nixon: The Brown Sisters. Thirty Three Years; $34.95; www.momastore.org).
Oddly enough, no single image is particularly powerful; in fact, a few are flat and almost completely inexpressive. Some are (technically) marred by harsh shadows cast on the women by the photographer and his massive camera.
The Brown Sisters in 1999
**Click here for a slide show of images from across the years.
(continued after jump) **