Mile High Photos
Finke's curiosity and awareness of performance and group dynamics shines through with unstaged images appearing otherwise, and capturing both the glamour and absurdity of its theatrics. For those not in New York, check out the Flight Attendants book (powerHouse Books, $35). The exhibit will be running through March 22, 2008.—Lori FredricksonAssistant Editor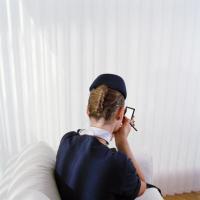 _ Flight Attendants_ by Brian Finke opened yesterday in
New York
at ClampArt (see info below). Finke, who is a documentary photographer, was born in
Texas
,and has previously drawn on local culture for a sly and often campy series of high-school football players, cheerleaders, and frat boys. As with those,_ Flight Attendants_ is the result of a two-year immersive study, but on another plane (so to speak), spending time with his subject on Delta, JetBlue, Hawaiian, Hooters Air; and international airlines such as Air France, Qantas, and British Airways, Air Asia, Thai, Cathay Pacific, and Icelandair, among many others, as well as in a flight attendant school.
Finke's curiosity and awareness of performance and group dynamics shines through with unstaged images appearing otherwise, and capturing both the glamour and absurdity of its theatrics. For those not in
New York
, check out the Flight Attendants book (powerHouse Books, $35). The exhibit will be running through March 22, 2008.
—Lori Fredrickson
Assistant Editor
Info: ClampArt,
531 West 29th Street
,
Ground Floor
,
New York
,NY 10001; 646-230-0020.
Photo: From Flight Attendants: Photographs by Brian Finke, published by powerHouse Books.****