Dye-Transfer Art "Bagged"
(Palm Beach Photographic Centre, 55 NE 2nd Avenue, Delray Beach, FL; 561-276-9797.)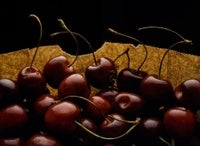 Fine-art film and fruit purveyors alike in Palm Beach, FL (or nearby) tonight may want to stop by the Palm Beach Photographic Centre for the opening of "Bagged," a photo series by local photographer Barry Seidman. Made in the bygone pre-Photoshop days, Seidman made dye-transfer prints of his fruit-and-paper-bag subjects using a Sinar 8×10 view camera and Kodak EPP film.
Those who remember the process will know the pure genius in a good dye-transfer print—this time-consuming and meticulous art could render enormous nuance and purity of color if controlled by someone who learned how to master it, which Seidman evidently did. It's an art also potentially on its way out due to scarcity of materials, so this is a fine time to see it.
It's also a neat view of a creative vision and the right studio setup gives ordinary household objects amazing fine-art potential; with only paper bags and some fresh fruit, Seidman was able to create a lovely geometry and color. You can learn more about the artist's technique tonight–the reception begins at 6:30 p.m. and is followed by a lecture by Seidman at 7:30 p.m. The work will be on display through April 19.
(Palm Beach Photographic Centre, 55 NE 2nd Avenue, Delray Beach, FL; 561-276-9797.)
—Lori Fredrickson
Assistant Editor