Say Cheese Or Else! Can Sony Really Detect Smiles?
Click here for our review of the Sony Cyber-shot DSC-T70. And to read more about face detection technology, check out Michael J. McNamara's December 2007 McNamara Report: Face Facts—Kathleen DavisAssistant Editor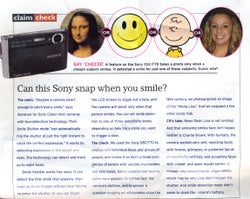 Sony has three compact cameras—the Cyber-shot DSC-T70 ($300, street), DSC-T2 ($350, street), and DSC-T200 ($400, street)—with the new "Smile Shutter" feature that claims it knows a happy face when it sees one.
In an interesting, if slightly less-than-scientific test, in its February 2008 issue, Consumer Reports used the T70 to snap photos of the Mona Lisa, a yellow smiley face, a smiling Charlie Brown, and finally an image of a smiling human. The only one the T70 detected as a smile? The human. According to the tests, the camera rejected images of people with varying facial expressions—frowns, puckered lips, and even closed mouth and partial smiles—but worked well with obstructions such as glasses and beards.
Our bottom line? The idea behind of the technology is intriguing, but it seems a little annoying to force your subjects to give you a big toothy grin.
Click here for our review of the Sony Cyber-shot DSC-T70. And to read more about face detection technology, check out Michael J. McNamara's December 2007 McNamara Report: Face Facts
—Kathleen Davis
Assistant Editor