Picnik teams up the Flickr
Picnik, the cool online image-editing program we test drove a few months back, has integrated its image-editing tools directly onto Flickr. You can still upload your Flickr photos (or photos from various other sites) on the Picnik site, but now even if you don't have a Picnik account, you can make changes to your shots right on Flickr. Simply click the "edit photo" button, and you get all the basic Picnik editing choices without leaving Flickr. Pretty cool. —Kathleen DavisAssistant Editor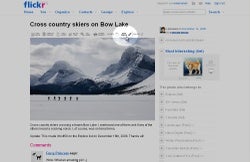 Picnik, the cool online image-editing program we test drove a few months back, has integrated its image-editing tools directly onto Flickr.
You can still upload your Flickr photos (or photos from various other sites) on the Picnik site, but now even if you don't have a Picnik account, you can make changes to your shots right on Flickr.
Simply click the "edit photo" button, and you get all the basic Picnik editing choices without leaving Flickr. Pretty cool.
—Kathleen Davis
Assistant Editor