News Photog Helps Nab Fugitive
How many of you would have done the same thing?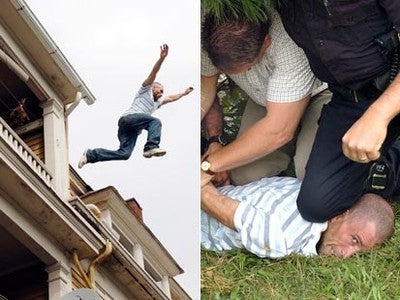 Police in Lewiston, Maine are heaping praise on a local newspaper photographer there who helped nab a fugitive yesterday. Sun Journal photographer Russ Dillingham was able to get this dramatic picture of a suspected car thief jumping from a third-floor balcony and then to a garage roof. Once the suspect hit the ground, Dillingham tackled him and held him down until police could lend a hand (or, in this case, a knee to the head).
From the Associated Press report:
Still, something about Dillingham's actions don't quite sit right with me. I guess the citizen/journalist calculation is different for everyone, but it seems a delicate balance. In this case, Dillingham acted as a citizen first, and a news photographer second (or actually a news photographer first, citizen second, and then news photographer again thirdly). I guess I just don't think journalists should be doing the police's work for them.
Then again, if a journalist came across a crime in progress, say an attempted murder or a rape, he'd be vilified if he didn't intervene. Thinking it all the way through, I guess Dillingham might be beyond reproach here. Not only did he get the shots for his news outlet, he also helped put a stop to what could have been an ugly situation that could have escalated in a hurry.
How many of you would have done the same thing?
–Jay DeFoore