Tip of the Day: Make your own Photojournal
The result is makes a thoughtful gift and a practical way to put some of your shots to use. (photo via Photojojo)—Melissa MacateeContributing Blogger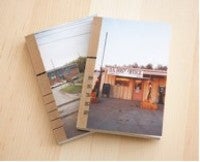 Judy Lee sells beautiful handmade photojournals she sells through her website. She recently teamed up with Photojojo to show you how you can make your own. Watch the tutorial video here.
In a nutshell you'll need:
• Two 5×7 photos
• A stack of paper sized to 5×7 (Lee suggests recycling various different types of paper)
• Glue
• A paint brush to paint the glue onto the journal spine,
• A small piece of paper to cover the spine and some wax paper,
• Wooden clothes pins
• Two books the same size as your journal
• A really heavy book to press the journal while the glue dries.
The result is makes a thoughtful gift and a practical way to put some of your shots to use.
(photo via Photojojo)
—Melissa Macatee
Contributing Blogger