Tip of the Day: Destination: Tahiti
French, American and Tahitian cultures offer up an interesting contrast in Tahiti and its neighboring Islands like Huahine or Moorea, keep an open mind and an adventurous spirit and you'll keep coming back!—Matthew PanzarinoContributing Blogger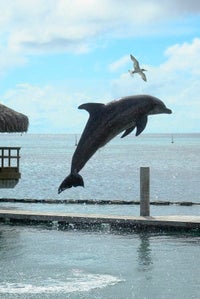 Tahiti is one of the bigger islands in French Polynesia and a popular destination for photographers and people just looking to get away from the fast paced mainland life. Further away and more foreign than Hawaii, it offers a much more unspoiled look at South Seas life. Here are a few tips to help you get the most out of shooting Tahiti:
**
1. Keep your equipment dry.** Read here and here for earlier tips about using silica gel packets to keep your equipment dry. Polynesia is very humid and wet, it sometimes rains 3-4 times a day.
**
2. Bring your wide-angle.** The wider the better, because you're on an island, you're only going to be able to back up so far to get those volcanos in the frame!
3. Waterproof your camera. If your camera has a housing, then buy it, the underwater life in Tahiti is amazing. If your full-size camera is too expensive to waterproof, buy a compact camera and get the waterproof housing for that.
**
4. Leave a day open.** Don't over-schedule yourself, leave a day open, rent a car (learn to drive manual before you go) and drive around the (one road) island. Photo ops will present themselves!
**
5. Learn a bit of Tahitian.** The Tahitian people are very warm and most of them know English, but they really open up when they see effort to speak to them in their own language.
French, American and Tahitian cultures offer up an interesting contrast in Tahiti and its neighboring Islands like Huahine or Moorea, keep an open mind and an adventurous spirit and you'll keep coming back!
—Matthew Panzarino
Contributing Blogger