Far out! The Love Lives On In Music and Pictures
Love is the Song We Sing: San Francisco Nuggets 1965-1970 ($59, street) out today from Rhino Media is the musical equivalent of an archeological dig. A 4 CD boxed set of Bay Area classics and rarities from dozens of bands, famous and obscure, it's not your typical nostalgic compilation for aging boomers (Soft Sounds of the Sixties!), but a musical overview of The Summer of Love. Some of its 77 tracks are undoubtedly awful, but add an authentic edge to the mix that recalls the era with clarity an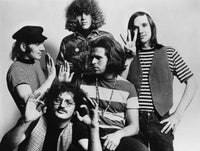 Forty years is a long time, but not long enough to dull or dim the intoxicating luster of San Francisco's famed Summer of Love. This past summer marked the 40th anniversary of that season — topped by the 1967 Monterey Pop festival that introduced Jimi Hendrix, The Who, Janis Joplin, and Otis Redding to the world.
The birthplace of Hippies, flower power, LSD, bell bottom pants, and long hair for men, San Francisco's Haight Ashbury district hosted a summer-long, drug-fueled celebration of free love with a sound track supplied by ground-breaking rock-and-roll acts like The Grateful Dead, Jefferson Airplane, Country Joe & the Fish, the Steve Miller Band, Quicksilver Messenger Service, the Youngbloods and more.
Love is the Song We Sing: San Francisco Nuggets 1965-1970 ($59, street) out today from Rhino Media is the musical equivalent of an archeological dig. A 4 CD boxed set of Bay Area classics and rarities from dozens of bands, famous and obscure, it's not your typical nostalgic compilation for aging boomers (Soft Sounds of the Sixties!), but a musical overview of The Summer of Love. Some of its 77 tracks are undoubtedly awful, but add an authentic edge to the mix that recalls the era with clarity and comprehensiveness.
The best thing? The 120-page book of "liner notes". Its band portraits match the conjuring power of the music. Paisley shirts, flowers in the hair, defiant poses snubbing The Establishment, swirling marijuana smoke, and the whacked out and goofy but life-affirming joy and exuberance of the period pour out in its 56 full-page portraits. Click here for a gallery of some of the shots from the book.
—Peter Kolonia
Senior Editor