Tip of the Day: Go Small or Go Large
—Melissa MacateeContributing Blogger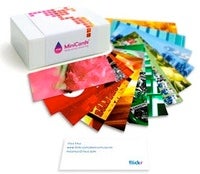 Want to show off your favorite pictures? You can go small or large.
Small and Powerful
For $20, you can get a set of 100 Mini Moo cards. The cards are just smaller than standard business cards (1.1×2.8 inches) and you can add artwork, photos, or text to both sides. You decide if you want them all to be different or multiples of the same image. They are priced reasonably, and give you an easy way to show off your work and promote yourself, your business or website. If you are shy about using your images, you can pick from their stock of options. For more inspiring ideas see their website.
Is Bigger Better?
Some walls just scream for more, imagine your favorite picture life size adorning your wall. A British company, BetterWallpaper.Co.Uk, offers to make your favorite image into something for those blank walls. It's a bit pricey (price quotes by size), so you won't be doing every picture in your album, but it looks like a great way to personalize your space with style. BetterWallpaper.co.uk guarantees their product for seven years and claims it will act like normal wallpaper even allowing for wiping clean when needed. You can get a quote according to dimensions and will receive a pdf proof to check colors. For more information,visit their website.
—Melissa Macatee
Contributing Blogger