Four Weeks to Become a Better Photographer: Lesson Two
Click here for Lesson One in the seriesClick here for our post on how the class worksTechniques of Natural Light Photography taught by Jim Zuckerman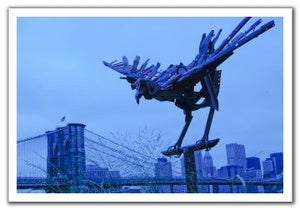 Assistant Editor and novice shooter Kathleen Davis challenges herself to take her photography to the next level with an online course at BetterPhoto.com. Let's see what amateurs and pros alike can learn along with her.
Click here for Lesson One in the series
Click here for our post on how the class works
**
Techniques of Natural Light Photography taught by Jim Zuckerman**
**_Lesson Two: Moody Light–Fog, Mist, Rain and Deep Overcast_**

_**
**_
In our second lesson, Zuckerman discussed how fog, dust, low clouds, deep overcast, rain, and mist can all change the mood of photos. He also discussed techniques for creating mood with artificial light, and how color can affect mood in images. One method for affecting mood without additional equipment or software is to switch the camera's white balance to tungsten or "indoors" when shooting outside, which gives photos a bluish hue. Zuckerman also covered the affects of warm golden light from sources such as candles.
Our assignment: submit photos showing subjects in either natural or artificial moody light.
After the jump, my photos with Zuckerman's critiques.
(Above Photo: Brooklyn Bridge & Bird shot on deep overcast day with tungsten white balance)