China Air-brushed
(Photos found here.)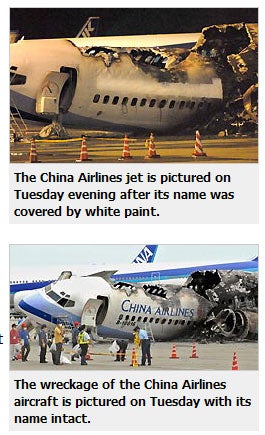 As a dozen or more Nikon executives and photo press boarded a Japan Air flight bound for Tokyo on Monday in preparation for Nikon's big press conference and new digital SLR announcements, we were greeted with harrowing images of the China Airlines jet bursting into flames after landing in Okinawa that very day. This isn't exactly the type of thing you want to see on the big video screen just before takeoff, but that's what we were faced with.
Luckily no one was seriously injured, except China Air's already tarnished reputation. Now news outlets in Japan are reporting that shortly after the fire, China Airlines officials had workers paint over the company's name and tail logo on the burnt jet as a way to minimize the PR disaster of further news photographs. The whitewashing is an effective if dishonest PR move, and apparently it's fairly common practice in these situations, though a quick web search couldn't turn up any other verified cases.
Although this is not the typical type of image manipulation we normally cover in this space, it is a very interesting and sophisticated case of media management. Soon (if not already) the destroyed plane will be concealed somewhere far away from news photographers as investigators look into the causes of the fire. My question is this: should newspapers and websites who run the whitewashed photo point out that fact in the photo captions? Has anyone seen this in their local papers?
-Jay DeFoore
(Photos found here.)