Yo! What Happened to Peace?
The creators proudly point out that this traveling show had its beginnings in 2002, during the run-up to the U.S. invasion of Iraq, when the national sentiment was much more hawkish (and people like the Dixie Chicks caught flak for suggesting otherwise). Nowadays, these artists and activists may be preaching to their own choir -- and they aren't likely to override any presidential vetoes soon -- but they're laying out their views, and having some fun as well. -- Jack Crager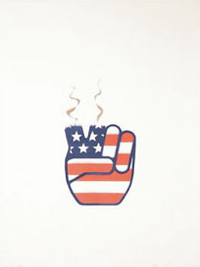 Fed up about the Iraq War? While the United States military reports that it has a plan for keeping substantial troops in Iraq for another two years (as reported here) and Democrats in Congress dither over their options for countering the Bush Administration (as noted here), a group of war protesters are voicing their own views with a be-in, of sorts: Yo! What Happened to Peace?
Billed as a "Night of Pro-Peace Art, Conversation & Music," the movement's next event will be 7 pm to midnight Saturday, July 28, at the Continental Gallery in downtown Los Angeles. Featuring anti-war and anti-occupation posters, photos, and artwork (such as Mike Davison's "8.46 9/11," left), the show includes an exhibition that has traveled to several cities throughout the world and is featured in the book of the same name (available here). Participating groups include Iraq Veterans Against the War and Axis of Justice.
The creators proudly point out that this traveling show had its beginnings in 2002, during the run-up to the U.S. invasion of Iraq, when the national sentiment was much more hawkish (and people like the Dixie Chicks caught flak for suggesting otherwise). Nowadays, these artists and activists may be preaching to their own choir — and they aren't likely to override any presidential vetoes soon — but they're laying out their views, and having some fun as well. — Jack Crager