Tip of the Day: How to Not Ruin a Wedding
My Three Favorites Are: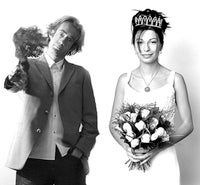 Whether you've been hired for the job or are helping out a friend or family member as a favor, playing the role of wedding photographer can be very stressful. There are no opportunities to re-do a botched shot (the cake can only be cut once!) and the photographer knows that the couple will look at their album for many years to come, and if done well, it will be one of their most cherished possessions.
If you are a nervous, first time wedding photographer, or even if you are a seasoned pro, take a look at The Digital Photography School. They have some great tips to help you succeed at wedding photography.
My Three Favorites Are:
1. Create a 'Shot List'
Especially if you don't know the couple and the families (and even if you do), ask the bride and groom to make a list of all the shots they will want. Remind them to include important friends, family members, and people combinations (one of the bride with her sisters, mother and grandmother, another of the groom and all his brothers, etc). Ask them to be specific about other shots as well (do they want table shots?) and to warn you of any obstacles they might foresee (like a relative who refuses to have his picture taken).
2. Be Bold but Not Obtrusive
Make sure you don't interrupt the ceremony, but don't let this keep you from the shots you need and the couple wants. Think ahead and use songs and longer readings to reposition yourself during the event. When taking formal pictures, don't be afraid to be a little bossy and tell the couple and party exactly what you want. They'll be happy when they see the proofs and realize your direction made everyone look their best.
3. Display Your Shots at the Reception
Take advantage of digital photography's immediacy and bring a computer to the reception. Upload photos from the ceremony and other shots you already have, and set up a slideshow to play throughout the reception.
Click here for the full 21 tips. And check out more wedding photo tips from veteran wedding photographer Bambi Cantrell in our April feature "Four Perfect Moments".
(image by flickr user rougerouge)
—Marnie Soman
Editorial Intern