Tip of the Day: Beach Shots That Aren't Boring
My three favorites are: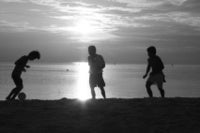 You've probably taken your camera to the beach more than once, but often, when photographing the sun, skies, sand and surf, the results are disappointing. Though the landscapes appear beautiful in life, when you get them home, every shot looks the same (and kind of dull).
Even if you've tried beach shooting many times before, give it another try, and keep these tips from the Digital Photography School in mind.
They have ten great tips to improve your coastal shots.
My three favorites are:
1) Find Focal Points: Just like any other landscape shots, seascapes need a focal point. Look for interesting, unique details. Use the things people bring to the beach (toys, shoes, sunscreen, etc.) in your shots, or find focal points already there (trees, dunes, a sandcastle left behind).
2) Use Your Flash: Overhead sun leads to shadows on people's faces. Use your fill flash, even though it's bright out.
3) Get Rid of Color: Black and white can completely change beach photographs, and is especially useful on less-than-perfect weather days. Strip the color post-production or take your old film camera with some tri-x.
—Marnie Soman
Editorial Intern