Remembering That Day
One of the largest photo archives every devoted to a single event -- and shot by hundreds of people from all walks of life -- the photo collection includes scenes of destruction and heroism, palpable grief and poignancy (such as the above shot of firefighters). At the Historical Society, the photographs will be accompanied by a series of oral histories and artifacts from the event, such as structural fragments from the WTC towers and the landing gear from the airplanes that hit them. Hardly a co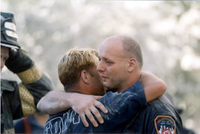 A day that changed the world remains with us. Shortly after reports of an ongoing dispute over where to commemorate the next anniversary of 9/11 attacks on the World Trade Center (as reported by am New York), we got word that an expanded exhibition will be shown this year of a remarkable photography show: Here Is New York, a collection of more than 1,300 photographs taken in the city on or soon after 9/11.
After a long stint in New York venues, and last displayed in 2003, the photo exhibition is now under the guardianship of the New York Historical Society (Central Park West & 77th Street), where the show will appear from September 11 this year through January 1, 2008.
One of the largest photo archives every devoted to a single event — and shot by hundreds of people from all walks of life — the photo collection includes scenes of destruction and heroism, palpable grief and poignancy (such as the above shot of firefighters). At the Historical Society, the photographs will be accompanied by a series of oral histories and artifacts from the event, such as structural fragments from the WTC towers and the landing gear from the airplanes that hit them. Hardly a comforting display — but a powerful reminder of an unforgettable tragedy.
— Jack Crager