Grief in the News
The big image on the front page of today's New York Times and similar image on the front page of the newspaper's Metro section are studies in grief—and studies in the ways photographs deliver the emotional dimension of the news. They are both powerful documents, but, like all news photos, they each have a limited vocabulary. The top photo shows Ester Miller, one of the over 500 people who sued the Los Angeles archdiocese over sexual abuse. A judge had just ordered a $660 million settlement in th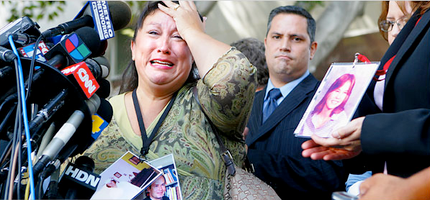 The big image on the front page of today's New York Times and similar image on the front page of the newspaper's Metro section are studies in grief—and studies in the ways photographs deliver the emotional dimension of the news. They are both powerful documents, but, like all news photos, they each have a limited vocabulary.
The top photo shows Ester Miller, one of the over 500 people who sued the Los Angeles archdiocese over sexual abuse. A judge had just ordered a $660 million settlement in the case. In the picture (made by Monica Almeida for the Times) Miller holds a photo of the priest accused of abusing her.
The second photo shows the Tatyana Timoshenko, mother of NYPD officer Russell Timoshenko, who recently died after being shot in the line of duty. In the photo, was taken by Uli Seit for the Times, Timoshenko is comforted by her husband, Leonid, while Patrick Lynch of the Patrolmen's Benevolent Association looks on.
What is it that we learn from these pictures? What function do they perform? How do they enrich our understanding or experience of the two stories? The questions seem obvious, which is all the more reason to ask them. The answers shed light on the very nature of photography and why we still find it so fascinating.