From Film to Digital to…..Cookies?
Is food the future of photo labs? Maybe, maybe not. One thing is for sure: It isn't film.—Kathleen DavisAssistant Editor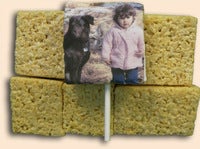 What does it take to keep a photo lab alive in 2007? In a word: flexibly. In two words: flexibly and cookies.
We've reported before on Mitch Goldstone's success at adding a scanning service to his lab, 30 Minute Photos Etc. He started business in 1990 developing film, then transitioned to all-digital in 2000, including the ScanMyPhotos.com scanning service and various standard photo products and services like books and enhancements. His company has now teamed with Sweet Images Ltd. to add edible treats such as cookies and Rice Krispie Treats to their offerings. The company makes their products using digital photos (including scans of prints) with their own "direct print process" involving food coloring on an edible base.
Is food the future of photo labs? Maybe, maybe not. One thing is for sure: It isn't film.
—Kathleen Davis
Assistant Editor