Tip of the Day: Include Clouds For Impact
There are many ways that clouds can add a new dimension to your photos. Here are a few tips from pro Russ Burden to keep in mind. Clouds can be integral components of landscape photographs. They provide dramatic color at sunrise and sunset, they take a featureless blue sky and add interest, they add shadows and highlights to the environment, and they impart mystery to impending storms. As nice as clear sunrises and sunsets can be, there's nothing like the drama of color blazen skies or carefully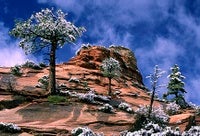 There are many ways that clouds can add a new dimension to your photos. Here are a few tips from pro Russ Burden to keep in mind.
Clouds can be integral components of landscape photographs. They provide dramatic color at sunrise and sunset, they take a featureless blue sky and add interest, they add shadows and highlights to the environment, and they impart mystery to impending storms. As nice as clear sunrises and sunsets can be, there's nothing like the drama of color blazen skies or carefully placed cumulous or lenticular clouds. They can often be as important as the key element in the landscape.
**
Fair Weather:** Fair weather clouds add interest to blank blue skies. As mornings progress, fair weather clouds begin to billow. It's at this point when they make the best subjects. When they get too thick, they cover too much blue and result in a lack of color and contrast. When using them in a composition, be patient and wait for the wind to carry them into areas that help balance the composition.