Tip of the Day: Give your camera some protection
The result is a camera (or phone) that you can keep with you while swimming. Depending on the quality of your condoms, your pictures might turn out a bit hazy – but that's better than having no pictures at all, right?—Luis Cruz Contributing Blogger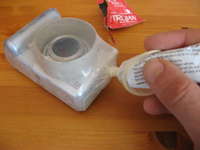 Bringing your camera to the beach? You can protect it from sand and water without paying an arm and a leg for underwater housing.
Instead, you can grab a pack of condoms, a roll of tissue, and some other household items.
How does it work? The short version – protect your camera with two layers of latex. The longer version, complete with photos and video, is available at Instructables.
The result is a camera (or phone) that you can keep with you while swimming. Depending on the quality of your condoms, your pictures might turn out a bit hazy – but that's better than having no pictures at all, right?
—Luis Cruz
Contributing Blogger