The Santa Angelina Chronicles
Reporters and photographers too often always sell out their own objectivity and creativity to gain access to celebrities. I'm beginning to think access is highly overrated. --David Schonauer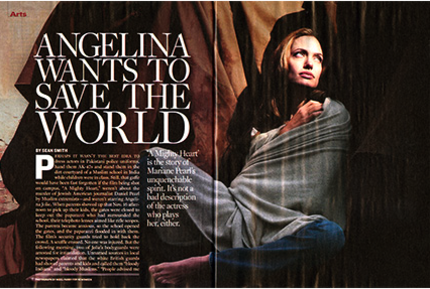 The buzz about the new Angelina Jolie movie is now climbing to a spiritual crescendo. In the movie, she plays Mariane Pearl, wife of journalist Daniel Pearl, who was killed by Muslim extremists in 2002. The article in this week's Newsweek makes the explicit case that Jolie and Pearl are linked in some metaphysical way. "Angelina Wants to Save the World," reads the headline. The subhead merely equates Pearl's "unquenchable spirit" with Jolie's high-profile humanitarianism.
But here again we see a photograph overpowering the words. Nigel Parry's magnificent image illustrates these themes by turning Jolie into a saint. We see the actress, who once wore a vial of her ex-husband's blood around her neck and seduced met her current husband while he was married to someone else, gazing heavenward. I couldn't help but think of Philippe de Champaigne's painting "Repentant Magdelene."
All the fawning articles about Jolie in recent days have created angst about the quality and objectivity of celebrity journalism. Ron Rosenbaum called a recent Esquire story "the worst celebrity profile ever written." And all this come on top of the news that Jolie required reporters to sign a contract guaranteeing her positive coverage.
Reporters and photographers too often always sell out their own objectivity and creativity to gain access to celebrities. I'm beginning to think access is highly overrated.
–David Schonauer