Operation Azra
Acid attacks along with so-called which Sinclair has documented in her award-winning work.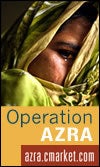 Stephanie Sinclair, one of the top photojournalists working in the Middle East over the past several years and a prominent champion of women's rights in the region, is helping spread the word about a fund-raising print auction this week on behalf of female victims of acid burning in Pakistan.
Acid attacks along with so-called "honor killings" are a major problem facing women in some fundamentalist Muslim socieities, which Sinclair has documented in her award-winning work.
Proceeds from this week's auction will initially benefit a Pakistani woman named Azra Latif, who suffered third-degree acid burns on her face and torso and faces a lifetime of agony as her injuries continue to scar and worsen the longer they remain untreated.
If you're in the New York City area, stop by the Bubble Lounge (228 W. Broadway) tonight, Tuesday, June 26, for a silent auction of photographs by James Nachtwey, John Stanmeyer, and Jan Grarup, plus a raffle and live performance by Sparlha Swa. Doors open at 6:30p.m. and projections start at 8:00 and 10:00. Those not in New York can help by bidding on one of the images in the online auction, which runs until midnight EDT July 1.
More info on participating photographers and Azra's background after the jump.