Letter of the Week: Pop Photo's Youngest Reader
Don Highfield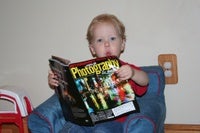 Hello,
My son is obsessed with books, magazines, and catalogs; pretty much anything that has pages, words, and pictures. When I got my new Popular Photography in the mail the other day I set it down on the table where my son quickly snatched it up and ran into the living room. I came around the corner to see him sitting in his comfy chair "reading" your magazine.
Don Highfield
camera info: Taken with a Canon digital Rebel 28-135mm IS, ISO 400, F/4.5, 1/60 second.
model info: Name is Hudson William Highfield. He is 19 months old.