Hey Hot Shot!
Photo 1: Pfc. Adam Zaremba by Spring HS Nina BermanPhoto 2: A Bump in the Road by Spring HS Clint Baclawski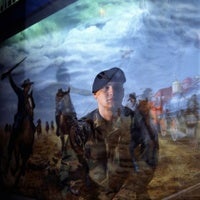 Today, Jen Bekman gallery in New York presents the winners of the Spring 2007 "Hey, Hot Shot!" Winners' Showcase. With a panel of such esteemed judges as Conscientious founder and editor Jörg Colberg, the School of Visual Arts Department Chair Stephen Frailey, and Aperture Books editor Lesley Martin, Bekman selects ten emerging photographers from a pool of entrants in the quarterly competition, which she began in March of 2005.
Along with having their work displayed at this showcase, the ten winners will be represented by Bekman's gallery, which has a solid reputation for finding and encouraging young talent across myriad art mediums. Previous winners such as Kate Bingaman-Burt and James Deavin have since gone on to solo shows and had their work published in major print publications (New York Times Magazine and Harpers, respectively, among others). One of the Spring 2007 winners, Nina Berman, recently received a World Press Photo award for a photo that she will be exhibiting at the show. Other winners include: Clint Baclawski, Michael Julius, Karolina Karlic, Mark Marchesi, Casey Orr, Justin James Reed, Pavel Romaniko, Kelly Shimoda, and Daniel Traub.
Those in the New York area should be sure to stop by the reception to see the work of tomorrow's top photogs; the showcase runs from 6–8 p.m. at the Jen Bekman Gallery (6 Spring Street, New York, NY, 10012; 212-219-0166). Those unable to make the show can check out their images at the gallery's website. And other aspiring hot shots should bookmark the competition's page heyhotshots.com and remember to apply for the next round.
Photo 1: Pfc. Adam Zaremba by Spring HS Nina Berman
Photo 2: A Bump in the Road by Spring HS Clint Baclawski
—Lori Fredrickson