Tip of the Day: Pot of Gold
One great shot of a rainbow erases the frustration of many hours of rain. Here's how to get the most of your golden opportunity: A polarizer filter can enhance a rainbow's intensity. Give the filter a turn until the colors are most vivid. Rainbows are always directly opposite the sun, so turn your back to the sun and face the darkest section of the sky. Adapted from The Joy of Digital Photography by Jeff Wignall (Lark Books, 2006; $20)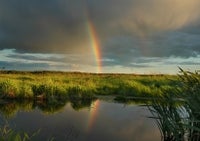 One great shot of a rainbow erases the frustration of many hours of rain. Here's how to get the most of your golden opportunity:
A polarizer filter can enhance a rainbow's intensity. Give the filter a turn until the colors are most vivid.
Rainbows are always directly opposite the sun, so turn your back to the sun and face the darkest section of the sky.
Adapted from The Joy of Digital Photography_ by Jeff Wignall (Lark Books, 2006; $20)_