The Rising City
A new book and exhibition about New York shows how photography's fascinating artifacts can come from prosaic beginnings. New York Rises: Photographs by Eugene de Salignac is a new photo volume from Aperture (click here for details), and the Museum of the City of New York will show an exhibition of the same title from May 4 through September 4 (visit this page). The historic photographs in the book and show are culled from tens of thousands of images that de Salignac made of the Big Apple between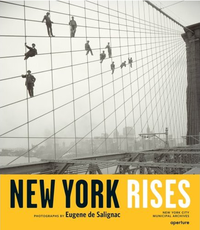 A new book and exhibition about New York shows how photography's fascinating artifacts can come from prosaic beginnings. New York Rises: Photographs by Eugene de Salignac is a new photo volume from Aperture (click here for details), and the Museum of the City of New York will show an exhibition of the same title from May 4 through September 4 (visit this page).
The historic photographs in the book and show are culled from tens of thousands of images that de Salignac made of the Big Apple between 1906 and 1934, when the city was in a tremendous growth spurt. As the official photographer for NYC's Department of Bridges/Plant and Structures, de Salignac was tasked with documenting the breathtaking changes to the city's structures, from the unmounted hulk of the Queensboro Bridge (in the 1907 image at right) to the then-world's-tallest Woolworth Building (in the 1927 picture below left). The photographs are remarkable for not only their historic richness but also their aesthetic quality; de Salignac shot on 8×10 glass-plate negatives, with an amazing eye for detail, backlighting, and composition. Although many of his works have appeared in historic volumes and films, they have rarely been credited to de Salignac until now, with this overview of his oeuvre.
Adding perspective to New York Rises is a section on several iconic works of the era by better-known photographers, such as Margaret Bourke-White's 1931 shot of the "Chrysler Building Tower"; Walker Evans's 1929 image showing the underbelly of the Brooklyn Bridge; and Weegee's 1944 picture of a derailed car above 42nd Street called "Wrong Way." Like many of de Salignac's images, these classic scenes evoke both the romantic grandeur and the heedless ambition of unprecedented, rapid metropolitan growth.