Letter of the Week: Listen to This
This is all without ever pulling your camera out of your bag. Giving trinkets to kids is certainly a way to get them to pose, but it sets a very bad precedence. It has reached such epic proportions in Nepal that they sell shirts stating,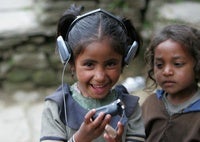 Dear Editor,
As I headed out on my latest photographic trek to Nepal,I picked up the March 2007 issue containing John Owen's editorial "Shoot on Site." A veteran of many treks to third world countries, I was quite surprised to read the endorsement of pens as payment for taking pictures of people. It is because of behavior like this that trekkers in Nepal are constantly harassed by kids first chanting "sweets," then "pens," then when they realize you have nothing else, "ruppies" (the Nepal currency).
This is all without ever pulling your camera out of your bag. Giving trinkets to kids is certainly a way to get them to pose, but it sets a very bad precedence. It has reached such epic proportions in Nepal that they sell shirts stating, " No pens, No sweets, No ruppies."