Does Maxim Have a New Owner?
Meanwhile, weirdly, the rapidly-aging top Playboy, Hugh Hefner, --David Schonauer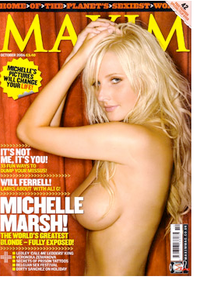 It appears that Maxim magazine owner Felix Dennis has found a winner in his attempt to auction off his magazine empire, which includes laddy mag Maxim, as well as music mag Blender. According to this report, the high bidder is the Quadrangle Group, headed by Kent Brownridge, formerly number two at Wenner Media, which publishes Rolling Stone. With Blender, Brownridge will be taking over a major Rolling Stone competitor.
But let's face it, the Dennis empire was built on Maxim and it's combination of sexy photos (babes in lingerie, babes in bikinis, and lots of belly-button rings everywhere) with frat-boy humor. The glory days of that stuff is long gone, and Maxim's main competition, FHM, has already folded its American edition.
Meanwhile, weirdly, the rapidly-aging top Playboy, Hugh Hefner, is hot again, thanks to his TV show "The Girls Next Door" on the E channel.
–David Schonauer