Autochrome Relics
The photos, which have retained an amazing degree of color saturation over the century, turned out the be vintage autochromes — one-of-a-kind positives made from a delicate process that Steichen experimented with. One picture is presumed to made be by Charlotte Spaulding, Albright's mother, who left the images behind upon her death in 1939. Two of the 5x7 glass pieces are attributed to Steichen — one signed by him — making them exceedingly rare examples of the master's portraiture in this medium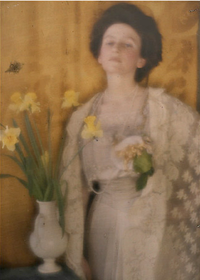 You never know what might be lying around the house. The George Eastman House Collection will soon be showing three rare pieces of color-photo history — including two photographs by Edward Steichen — acquired through a circuitous saga that sounds like a tale from the Antiques Road Show.
The three images, including Steichen's photograph of Charlotte Spaulding (left), are nearly a century old, dated 1908, and sat in darkened storage for decades in a house in Buffalo, New York. They were recently given to the Eastman House by Charlotte Albright, a 96-year-old artist who said she wanted to donate examples of antique glass-plate negatives, according to an intriguing story by Randy Kennedy on the New York Times Website and in today's Arts section.
The photos, which have retained an amazing degree of color saturation over the century, turned out the be vintage autochromes — one-of-a-kind positives made from a delicate process that Steichen experimented with. One picture is presumed to made be by Charlotte Spaulding, Albright's mother, who left the images behind upon her death in 1939. Two of the 5×7 glass pieces are attributed to Steichen — one signed by him — making them exceedingly rare examples of the master's portraiture in this medium.
As translucent positives, autochrome images are usually displayed with a light source behind them (which in turn can make the images fade). So the Eastman House expects to display these gems for only a short while, most likely this October (no date yet). Stay tuned to the Eastman House Website. — Jack Crager