Patterns of the Earth
Click here to see a photo gallery of some of the images from the book.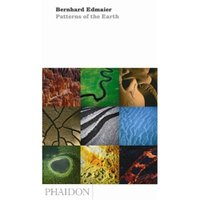 _ P__atterns of the Earth_, by Bernhard Edmaier (Phaidon, $20) gives us a view of the world that we might not ordinarily see. As a civil engineer and geologist, Edmaier has spent the past fifteen years traveling from the coasts of Greenland to the mountains in Namibia and the glaciers in Argentina, documenting the textures, colors, and patterns of all their many surfaces.
Often shooting from airplanes as high as 20,000 feet in the air, the images Edmaier captures are often as visually striking and otherworldly as stills from a science-fiction film—who knew that vents degassing in Ethiopia could cover such a vast part of the geothermal region or that it looks, say, like a field of popped yellow parachutes? Who knew that brackish lagoons could look so lovely, or that deadly hot springs could look so inviting? The stunning beauty of these far away places, on Earth Day, is a potent warning—without pictures like these, we may not have any other record to remind us what we've lost after it's gone.
Click here to see a photo gallery of some of the images from the book. _
_
— Lori Fredrickson