Letter of the Week: Razing Cane
Subject: Regarding a Story in your March Issue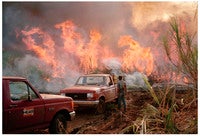 How sweet it turns out it is..
To: Pop Editor
Subject: Regarding a Story in your March Issue
Aloha!
I am writing from a company named Alexander & Baldwin, Inc., which is a Fortune 500 diversified public corporation (NASDAQ: ALEX). Hawaiian Commercial & Sugar Company is one of our operating divisions, and contrary to the sub-head in the story called "Razing Cane" in your March issue, HC&S is alive and well.