It's in the Cards
Among the enduring art forms in the photo world are self-promotion postcards — and we see a lot of them here at American Photo. These range from seasonal greetings touting a photographer's work and wit to notices of new projects to eye-catching invitations. Many of them are what we endearingly call A few weeks ago, we received a postcard that took artsy-f**tsiness to new heights. The card consisted of a blurry picture on one side, with my name and the American Photo address on the other. (Othe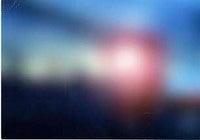 Among the enduring art forms in the photo world are self-promotion postcards — and we see a lot of them here at American Photo. These range from seasonal greetings touting a photographer's work and wit to notices of new projects to eye-catching invitations. Many of them are what we endearingly call "artsy-f**tsy." A few weeks ago, we received a postcard that took artsy-f**tsiness to new heights.
The card consisted of a blurry picture on one side, with my name and the American Photo address on the other. (Other staffers received the same.) No return address, no credit, no ID. Just a shapeless mystery item that appeared to have mistakenly omitted its creator's name. Or else, as I said to a colleague, this card is just a teaser, the first of a series. "Now that would actually be clever," we agreed.
Sure enough, a couple of weeks later, a second blurry card appeared, this one slightly less nebulous (though still far from clear). By then they had our attention, so we kept a watch for the next installment.