April Guest Blog: Martin Fuchs
A Heroic Photographer Should Be: a) invisibleb) well-balancedc) committedd) what do you mean ?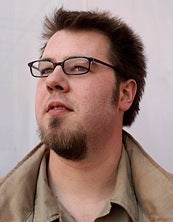 Since interning in New York at Magnum Photos a couple years ago, Martin Fuchs has returned home to Vienna, Austria, where he is now shooting for international magazine, newspapers, and commercial clients, and working as an editor and producer for Magnum Photos New York. But what impressed me–why I asked him to look over our May/June Heroes of Photography_ issue and give us his thoughts–was his insightful blog,_ Journal of a Photographer_, where this story will be cross-posted. As he points out below, defining a heroic photographer is hard to do…and capturing that heroism in a few magazine pages is no easy task either.
~Miki Johnson_
_
_
A Heroic Photographer Should Be:
a) invisible
b) well-balanced
c) committed
d) what do you mean "heroic"?
American Photo's new issue highlights 10 Heroes of Photography who "inspire us with their commitment and courage" as the American Photo staff writes. But not one of those photographers actually wants to be called a hero, because they don't see themselves as heroes. Personally I am very much with Joseph Rodriguez who, according to Fred Ritchin, the director of PixelPress, insists that the people he photographs are the true heroes. How true. As I always say: "What could possibly be more interesting than real life?" Sure, there are people I consider heroes, in photography and outside of it, but that's more about their feeling, dedication, talent, and calling than about a heroic idea of a single person.
I really like the idea of the invisible photographer (as Ambassador Richard Holbrooke describes photographer Brent Stirton). I like the idea of the photographer as somebody documenting and recording history, showing what's going on by getting close and by blending into the environment without intruding and disturbing. Witnessing is the key. And I imagine that witnessing is not always an easy task. Those photographs that tell us about life and not about the photographer that took them are the true masterpieces of photojournalism and documentary photography.
This brings up an oft-asked question: Is it possible to photograph something without affecting the scene, without shaping what happens in front of the lens by the sheer presence of a photographer? I don't have an answer to this question, and honestly I don't think there is a valid answer to it. But if it is possible, I think it can only be achieved by a photographer with commitment, passion, respect, and love.