The More Things Change…
A couple of new photography books — both featuring work from the mid-20th century — shed light on two enduring obsessions in American society: G.I.s and glamour. In 2007, as current headlines veer from the casualties of Iraq to the travails of Anna Nicole and Britney and back again, it's illuminating to see how transfixed our nation was with both the plight of soldiers at war and the lifestyles of the rich and famous half a century ago. It's also remarkable how the objects of these obsessions ha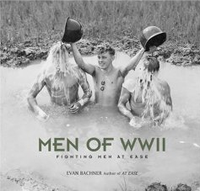 A couple of new photography books — both featuring work from the mid-20th century — shed light on two enduring obsessions in American society: G.I.s and glamour. In 2007, as current headlines veer from the casualties of Iraq to the travails of Anna Nicole and Britney and back again, it's illuminating to see how transfixed our nation was with both the plight of soldiers at war and the lifestyles of the rich and famous half a century ago. It's also remarkable how the objects of these obsessions have changed, not necessarily for the better.
The subjects of Men of WWII: Fighting Men at Ease (Harry N. Abrams, $35), are clean-cut U.S. recruits off the battlefield — hanging in barracks, biding time awaiting orders, gaming and clowning, shaving and bathing (a lot of the images discretely show guys in the buff). Originally shot for patriotic publications and later culled from the National Archives, these images project a little-seen side of the soldiers' day-to-day world, full of tedium, whimsy, and recreation. Similarly, a new book of Edward Qunn's photographs, Riviera Cocktail (teNeues, $95), offers candid shots of trendy celebs of the 1950s, from sex symbols like Brigette Bardot and Sophia Loren to creators like Alfred Hitchcock and Pablo Picasso. Together, the collections revisit the the double-sided coin of reality and diversion. It seems like both sides of the coin were shinier back then — but is that really true?
One could argue that celebrities ain't what they used to be. Anna Nicole Smith's life and looks may have eerily echoed those of Marilyn Monroe, but no one would equate the pair's abilities. Britney Spears seems to be taking career-arc lessons not from Grace Kelly or Kim Novak but rather from the self-destruction manual of Michael Jackson. The romantic merry-go-rounds of Brad & Angelina and Jen & Vince and Ben & Jen seem more about the head games of dysfunctional brats than the real lives of talented stars.