Kike Arnal at the Half King Tuesday
I began researching the demographic statistics of the city, I was shocked to find that Washington, DC has the highest rates of teenage pregnancy, infant mortality, and HIV infection in the country. Not to mention that 20% of its population (and over 30% of its children) live in poverty and male African Americans have the shortest life span in the country.What: In the Shadow of Power: Poverty in Washington D.C.When: March 12 - May 8th, 2007Where: The Half King, 505 W 23RD STOpening Talk: Tuesday,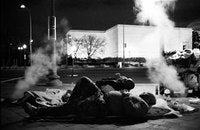 For those of you in The City, and by The City I mean New York City, hop on over to the West Side Tuesday to see Kike Arnal's slideshow presentation at The Half King. If you're not in frigid Manhattan, go check out Kike's work at www.kikearnal.com.
The project he'll be showing is on poverty in Washington, D.C. From his artist statement:
What: In the Shadow of Power: Poverty in Washington D.C.
When: March 12 – May 8th, 2007
Where: The Half King, 505 W 23RD ST
Opening Talk: Tuesday, March 13th at 8p.m
–Jay DeFoore