The New MacBook Pro Has a New Touch Bar That Displays Useful Tools In Photoshop And Other Apps
A display on the keyboard shows info as you work.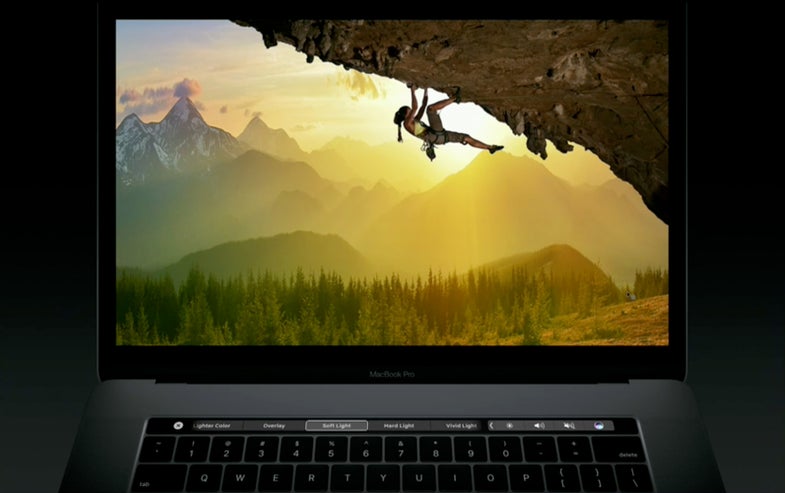 Today, Apple announced a long-awaited update to its MacBook Pro computers with an interesting new feature called the Touchbar that's designed to streamline workflow with a variety of apps, including Photoshop.
The bar is actually a touch-sensitive display that's meant to bring up specific tools and utilities depending on what you're doing and which app you're currently using. The Photoshop demo showed it used for things like brush settings, color picker, and zooming.
In addition to the Touchbar, the MacBook Pro is faster, using upgraded Intel i7 processors and graphics hardware. The screen has also been upgraded, making it brighter and giving it a 25% wider color gamut. It still maintains the same Retina resolution.
The track pad has been improved, giving it more surface area and better ability to recognize gestures. The ports, however, have been replaced so there are just four thunderbolt/USB-C style ports to handle everything from charging to hard drives. Sadly, the SD card reader has also gone away, which means hooking up a camera to the new MacBook Pro is going to require a new cable at least to get your files.
The demo with Photoshop looked pretty cool, but it doesn't exactly feel revolutionary. One big selling point seems to be that you can use the Touchbar as a small display to show tool settings and stay in full-screen on the big screen. If you use a secondary monitor or you're a ninja with shortcuts, that may not be a huge deal
The overall package looks, as you might expect, pretty slick, but it will be interesting to see if there are any growing pains that stem from the drastic change in ports and the lack of SD card reader. Combined with the lack of magnetic power cable, it seems like taking this into the field might be a little trickier than with the older model, at least at the start.
I'm looking forward to trying out the Touchbar to see just what kind of difference it makes when working in compatible apps. The 15-inch starts at $1,999, while the 13-inch starts at $1,299.