New Gear: LowePro ProTactic Expands With Four New, More Compact Bags
The latest bags from LowePro are meant to take a beating while walking around the city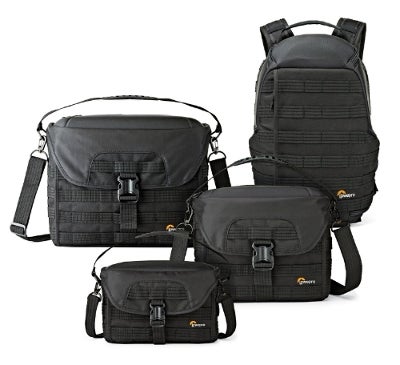 We first saw the LowePro ProTactic line at Photokina a while back, and now they're expanding the line to include three new shoulder bags and a more compact backpack. The ProTactic series is defined by its ultra-tough exterior and its tactical appearance. Here's a rundown of the new models.
ProTactic SH 120 AW – A small but robust shoulder bag with room for a mirrorless kit, such as the Olympus OM-D E-M1, with attached lens, extra lens or flash, smartphone and personal essentials.
ProTactic SH 180 AW – A mid-sized shoulder bag that fits a standard DSLR, such as the Nikon D750, with a 24-70mm lens attached, one to two extra lenses, a tablet, smartphone and small personal items.
ProTactic SH 200 AW – A modern, photojournalist-style shoulder bag designed to fit a professional DSLR with a classic 70-200mm lens kit, two to three extra lenses or speedlights, up to a 13-inch laptop and tablet, smartphone, and accessories.
ProTactic BP 250 AW – A scaled-down pack that protects a complete mirrorless kit with a 12-40mm lens attached, space for three to four extra lenses or flashes, an 11-inch MacBook Air®, smartphone and accessories.
The line has clearly been successful for LowePro if they're expanding it to cover a wider range of shooters. I just received the SH AW for review, so watch for a thorough test in the next week or so.