New Gear: Fotodiox LED100WB Studio Lights
Fotodiox's new LED light delivers equivalent of about 400Ws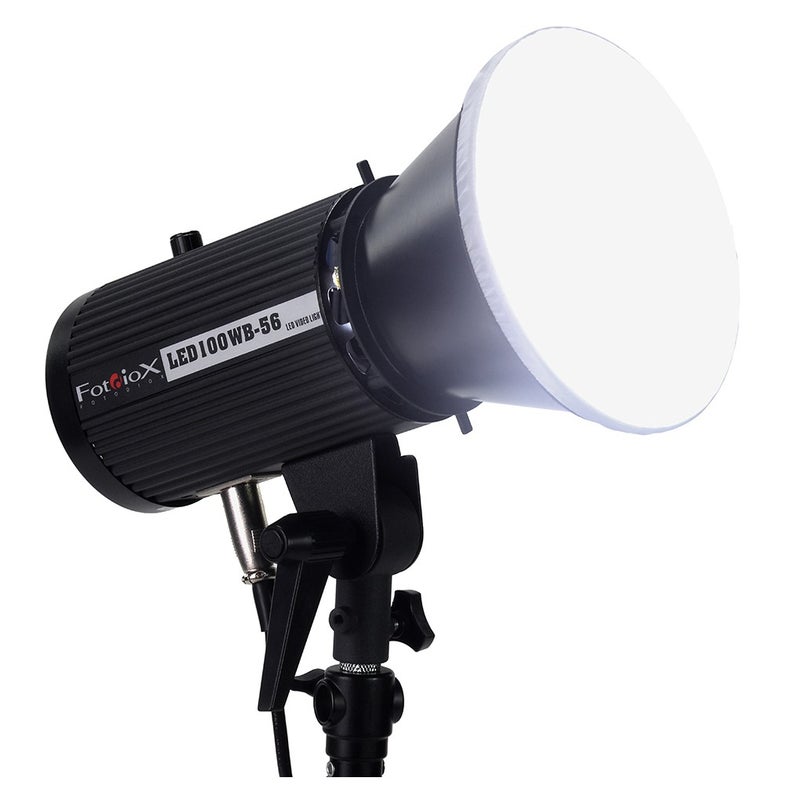 Fotodiox, purveyor of lens adapters, studio lighting, and other photo and video accessories has a new LED light aimed at studio shooters called the LED100WB. Shaped like a studio strobe, the LED100WB uses the same Balcar bayonet mount as Alien Bees, Einstein, and Paul C Buff lights to mount accessories. That means that there is already an ample stable of accessories you can choose from to modify the LED100WB's 60-degree, 6500 Kelvin native output.
According to Fotodiox, the new light consumes 100 watts, but outputs the equivalent of a 400 watt hot light while remaining cool. Unlike fluorescent sources, the LED100WB is flicker free. It comes with a small ballast to supply power as well as a 12-inch reflector and a diffusion sock for that reflector. The ballast can plug into any standard power outlet.
With the video capabilities of cameras gaining faster frame rates, a flicker free lights such as this one will have more of a place in studios Plus, the fact that they barely generate any heat makes them a nice choice for portrait photographers. At a 400-watt equivalent, they aren't super powerful, but if you're already using a 400 watt light, you'll have a friendlier electricity bill since these new lights use less energy. The folks at Fotodiox have been on a roll the last couple of years and it doesn't seem like they'll be slowing their roll anytime soon. The LED100WB costs $300 and can be purchased directly through the Fotodiox website.