New Gear: COOPH Rain Jacket Carries Camera Gear in Style
A stylish rain jacket with easy camera access and an extendable hood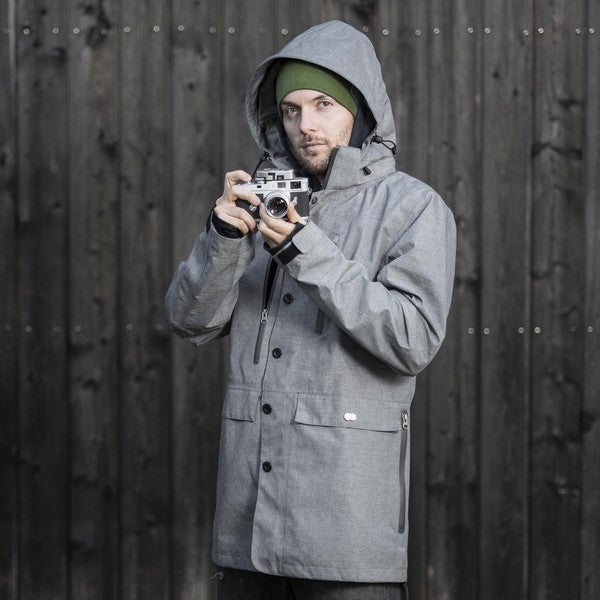 I first encountered COOPH and its collection of photographer-oriented clothing at Photokina last year. The company still hasn't achieved wide distribution here in the States, but it does make some of the most stylish photo-oriented clothes on the market.
Its latest product is called the Rain Jacket, and it looks very much like a typical piece of outerwear. The shell is completely waterproof, but it has a variety of zippers to allow for easy access to gear. There are also access zippers to allow you to get into your pants pocket easily. The inside has a large mesh pocket that's big enough to hold an extra lens, some camera accessories, or even a tablet. The outside has two large pockets at the bottom for extra capacity.

One thing I really like is the extendable hood, which juts out like the brim of a hat to keep water from falling onto your face and the back of your camera. Trying to see through a rainy viewfinder or review images on a drip-covered screen are some of my least favorite things about shooting in the rain, and this could help a lot.
If you want to pick one up in the U.S., you can get it from one of the participating Leica stores listed on COOPH's site. You can order online in Europe, where it costs a cool 398 Euro. So, while it may not be the most practical option for American shooters just yet, I do hope COOPH eventually gets wider distribution in the USA. I've liked almost everything I have seen from the company, and stylish photography clothes can be tough to come by. Need proof? Do a search for "photography vests" and bask in the functional-yet-hideous results.