NBA Player Kevin Durant Was a Photographer At Super Bowl 50
A pro basketball players takes a crack at the photo pit at the big game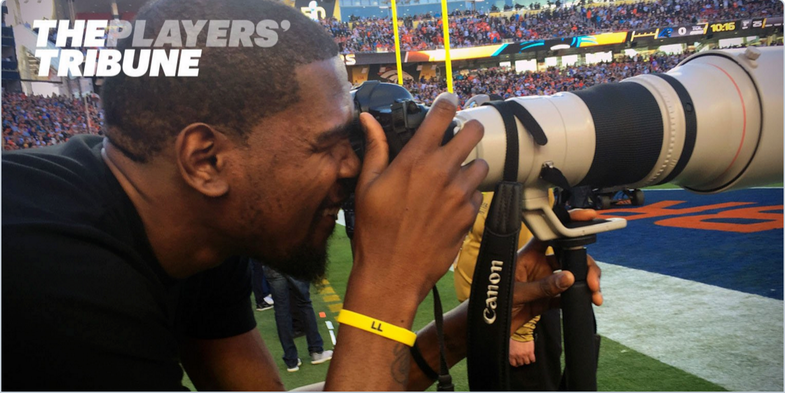 Browse #SB50 photos from our sideline photographer, @KDTrey5. https://t.co/gwUDBKrFxN// pic.twitter.com/UFROUa6r70

— The Players' Tribune (@PlayersTribune) February 8, 2016
For many photographers, posting up on the sidelines of the Super Bowl with a telephoto lens and an all-access pass is a dream assignment. Apparently the same holds true for NBA All-Star Kevin Durant, who was fortunate enough to make it happen last night, shooting Super Bowl 50 with the hard core photographers.
Durant was shooting for The Player's Tribune, which is a media outlet launched by Derek Jeter as a platform for professional athletes to give their direct perspective on things from sports (obviously) to news.
From an objective point of view, Durant's lack of experience is evident in the pictures. The agencies and papers often put some of their best shooters on this assignment, so it's tough to show up without big game experience and expect to get shots that can compete. Durant actually talks about how hard sports photography is in his piece for the Tribune. "I'm learning how tough these action shots are to get … they happen so fast. It's hectic following the action, then checking your settings in between plays. It's a lot of guessing and adjusting as you go."
Despite the technical troubles, Durant seems to have a great attitude about the whole thing and seems to really love taking pictures, and that's something I always love to see. He also talks about how his photo vest was a little too small, which is something I'm also familiar with, but for, um, other reasons.
Interestingly enough, photography seems to be becoming more of a viable second career for some athletes. Former MLB pitcher Randy Johnson is actually a fairly successful photographer, even beyond sports. It makes a ton of sense to me because they have such intimate knowledge of the game, so all they need beyond that is the technical knowledge to capture what they're seeing.
And Kevin, next time if you want someone assisting as your camera tech, I'm happy to help!
H/T: Esquire