Mentor Series: Scott Bump's Chinese Treat
Fishing for magic in Chengdu, China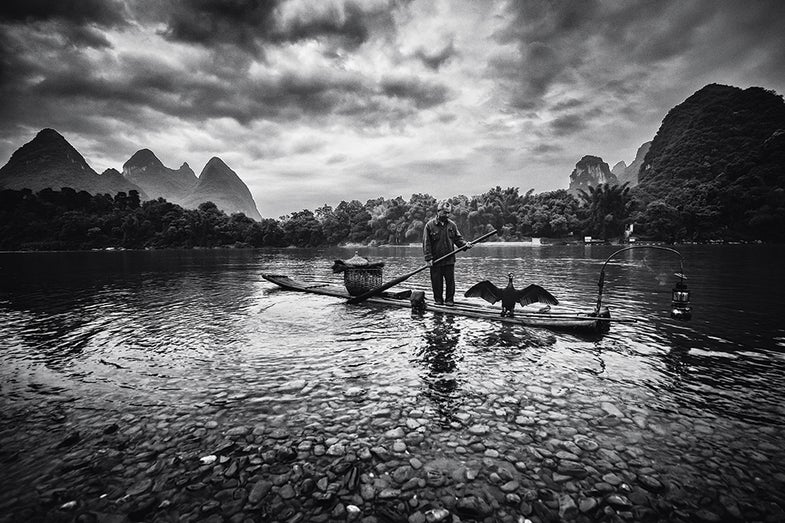 He's traveled to more than 27 countries amid a busy professional life, but for R&D director Scott Bump from Franklin, Massachusetts, the 2012 Mentor Series trek to mainland China "was one of the most physically challenging things I've ever done," he says. "We were all over the country, hiking up mountains and across cities. Because of road closures in Bejing, we had to walk blocks and blocks from the bus to a hotel." Adding to these trials was smog so thick that you couldn't see across the street and few English speakers to be found.
Despite the challenges, Bump came home with some of the best shots of his life, including the Best-in-Trek photo of a Chengdu fisherman shown above. To bag this winner, he started his day with a 3:45 a.m. wakeup call, which got him to the banks of the Li River in time to shoot a form of fishing that these days is practiced mainly for tourists. An ancient technique, it uses a lantern to attract fish. A cormorant then catches the fish, which the fishermen wrests from the bird.
The scene was challenging for his group because of its darkness. Happily, Bump was well prepared with a tripod and wireless, off-camera flash that made tumbling out of bed so early worth the effort. He jokingly says, "I used a voice-activated light stand—that is, another trekker—to aim the flash, and was rewarded with this. It was a case of having the right gear at the right time and place."
Another important thing he's learned on his Mentor Series adventures? "Always connect with the people you photograph," he says. Make sure you communicate with them, he continues, even if it's only through gestures. "If you can gain the trust of your subjects, your portraits—and all your travel experiences—will be by far the better for it."
Scott Bump, along with wife Cynthia Grady, the photographer is planning future treks to Ireland, Prague, and beyond.