Mentor Series: Gerry Heine's Medieval Magic
Scotland casts a spell on this Texan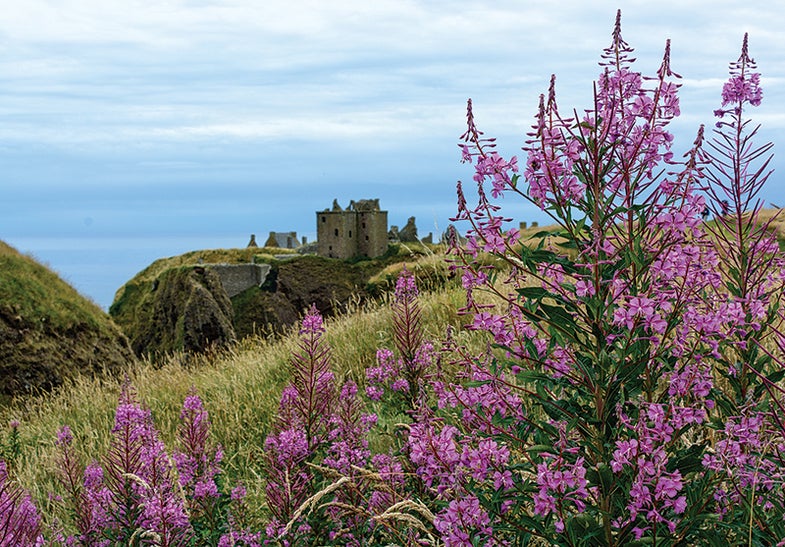 Dunnottar Castle is a romantic relic, evocative of Scotland's Middle Ages. Sitting in solitude on the North Sea coast, the castle posed an intriguing challenge for Popular Photography Mentor Series participant Gerry Heine, a retired municipal administrator from Waxahachie, Texas. Heine wanted strong fore-, middle-, and background interests to give depth to his photo, but also wanted his picture to reflect a sense of the castle's isolation.
To achieve these seemingly mutually exclusive goals, Heine chose a wide-angle lens to minimize the size of the castle while expanding the swath of empty sky above it.
"The mentors had suggested we look for different angles or perspectives for our images, so I walked around exploring the rugged landscape surrounding the castle," he recalls. Finally, he spotted these fireweed flowers and used them to repeat the sloping diagonal line of the middle-ground hill. This knit the composition together and gave
the photo a touch of color.
Heine says his most important travel photography tip is being ready for the unexpected. "I usually take two camera bodies, one with a wide-angle lens and another with a telephoto lens, both with lens caps off, turned on, and ready to shoot."
A veteran of almost 20 Mentor Series trips, Heine has seen many beautiful landscapes. "Scotland's scenery was spectacular," he says. The ruins of St. Andrew's cathedral in Fife were among that trip's highpoints for him. "The many castles were all impressive," he says. "We also photographed the Glenfiddich Distillery, where we learned how to properly taste single-malt scotch." For more from Heine's many photo-rich adventures, visit gerryheinephotography.com.