Mentor Series: Lexi Cooper's Dakota Dreams
Finding the light in the Black Hills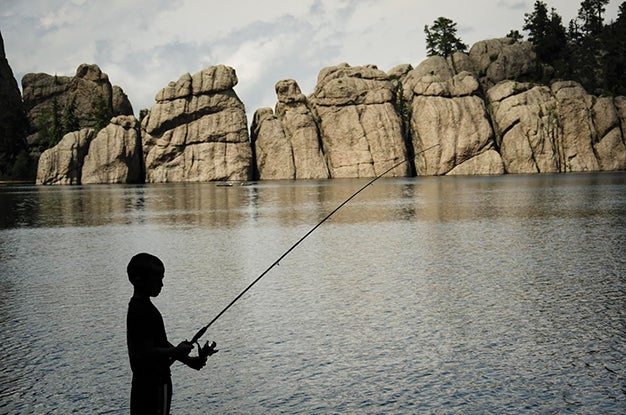 On a 2013 Mentor Series trek to South Dakota, Lexi Cooper found herself attracted to a group of boys fishing in the Black Hills' Custer State Park. "I always like to incorporate people in my photographs, and I was glad when this opportunity presented itself," says the 21-year-old photography major at Georgia's Savannah College of Art and Design. The Chicago native lucked into a rare opportunity that day: Considering that South Dakota is the fifth least populous state, the Black Hills aren't exactly known for their portrait potential. She was also drawn to the boys for the sense of scale they added to the rocky landscape.
After composing the scene and firing off a few shots, "I was delighted with how this boy's profile and fishing pole were so well defined," she says, deciding to render his figure as a strong silhouette. "To get that silhouette effect, you have to expose for the background and not your subject. As long as the background is brighter, your subject will be dark."
Silhouettes can be tricky, though. "You have to make sure that whomever or whatever you're photographing has a nice shape and form," Cooper says. "Since we can't see any detail in the subject, their outline needs to be interesting for the picture to be successful." It certainly is for this shot.
This picture is also helped by an important lesson she learned on one of her six Mentor Series treks. "I wanted to compose so the picture would have a clear foreground, middle ground, and background. I placed the distant rocks as the background, the water as the middle ground, and the fisherman as the foreground," she says.
Another strategy Cooper has picked up along the way? Before pressing the shutter release, she always checks the four edges of her viewfinder to make sure she's got everything in the picture that should be there—and nothing else.
_Graduating from art school in spring 2015, Cooper plans a career in photography. _