Carolyn T. Davis Lets Chicago Shine
A doctor turns her camera on Chicago's Navy Pier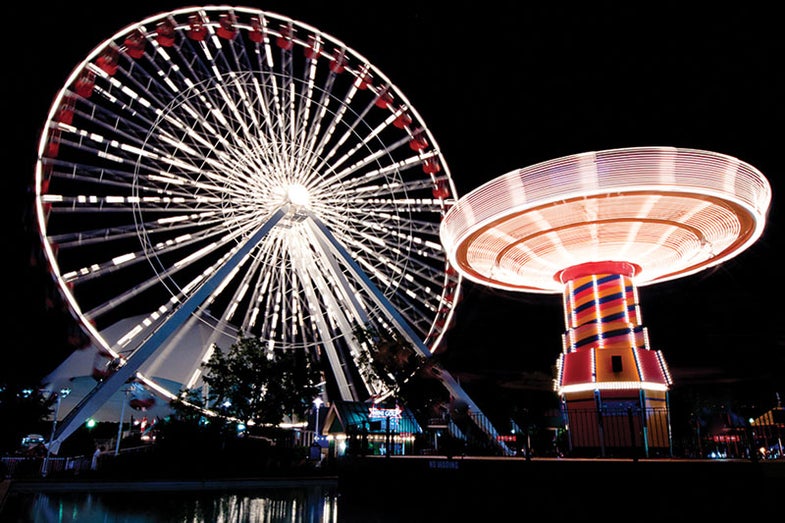 Carolyn Davis is a self-proclaimed "perpetual learner." A pediatrician by trade, she's expected to keep up with the latest ailments and treatments—her education never stops. It's one of the reasons she's a repeat trekker with Popular Photography's Mentor Series, since not only does she get schooled by a professional photographer, but often, by her fellow participants.
"We would go to the same locations, but had different shots," the resident of Overland Park, KS, says. "The way other people saw things was interesting. Whether dealing with a patient, or processing a picture, you're looking at colors, details, and patterns—you pay attention to the details."
Her first trek was to Chicago, a place she had already visited but had yet to truly see. For the long nighttime exposure of a Ferris wheel and wave swinger shown here, she tried different "correct" exposures, but didn't like the wobble she got from the swinger with longer exposures. She settled on 2 sec at f/18, ISO 500, the correct "creative" exposure for her taste. Later in the trek, she learned that she need not shoot night scapes at such tiny apertures—with her subjects so far away, the benefits of shorter exposures far outweighed any additional sharpness from the increased depth of field.
Davis would eventually trek with the Mentor Series to New Zealand, and even made her own Mediterranean trip, guiding herself on a photo tour of Croatia, Greece, and Venice. But it was the cooperative element of the treks that she enjoyed most. "My favorite part is the photo review," she says. "Not only my review, but everybody else's. That was where I learned the most."
Carolyn T. Davis is a pediatrician from Overland Park, KS. She's trekked to Chicago and New Zealand. For more of her work, go to CarolynTDavis.com